---
Hazardous Products Awareness
---
Avian Ad Sponsors...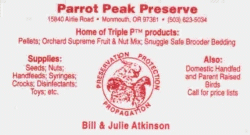 To place your Ad on our site, please call: 1(360)835-2361, or e-mail: avianfriend@attbi.com
---
The products listed on this page should be avoided, or used with extreme caution when in the vicinity of our feathered friends.
NOTE: Be warned that if a product is harmful to our pet birds, it is most likely harmful to us also. Don't think that Mr. Manufacturer or Mr. Legislator is looking out for our best interests when they tell us it is harmless.....the almighty dollar has a way of forgetting a multitude of lies.....
---
"4 The Birds"


It has been reported to us that a product, '4 The Birds' is being sold as a bird repellant. It is marketed by J.T. Eaton and is manufactured by Bird Control International. The EPA# is 8254-1-56. It seems that the major ingredient is Polybutene. It is a clear, thick resinous material that is applied with a caulking gun. It is to be applied to window ledges and other places that birds might land where they are not wanted. Instead of repelling them, the birds become 'stuck' in the goo (like mice in sticky traps). As the birds struggle to escape, they become further trapped by this resinous material. Their beaks, face, wings, feathers and feet become coated with this sticky material. Even if they manage to escape, with their feathers coated with this sticky substance, they are unable to fly. One veterinarian is treating several of these cases. The substance is impossible to remove safely. It does not come off with soap and water, but requires mineral spirits which is toxic to birds. The birds may suffer permanent disabilities. This product is not a repellent. Veterinarian Linda Pesek and a number of concerned people are trying to get this product removed from the EPA approved list. For this purpose data is needed, documenting incidents. We ask that you check with others in your area to determine 1)if and where the product is sold around you and 2) if others have experienced incidents with this product. We would welcome all information on injuries and bad experiences. The data gathered will be used when contacting the EPA to object to this product being licensed. Please help the birds. Email your information to us at birdsnways@birdsnways.com and we will forward it to Linda. And be sure to warn others NOT to use '4 The Birds'.

PLEASE PASS THIS IMPORTANT INFO ALONG
---
"Flame Tamer"


This product is deadly for birds. Apparently you put it over a gas stove burner to distribute heat better. It is coated with Polysilicone lacquer and killed three birds very quickly. Sally Blanchard will also be running a warning against this product in the next Pet Bird Report.

PLEASE PASS THIS IMPORTANT INFO ALONG
---
PTFE(Polytetraflouroethelyene)


On March 14, two macaws, Christmas and Harley, were killed by self-cleaning oven fumes in Long Island, New York. The next day, three birds, Baby, Sunny and Twist, were killed by those same fumes in Aurora, Colorado. Yesterday, a third bird, Petey, a Green Cheeked Amazon succumbed from the Long Island incident even though he had been on oxygen for 5 days. Another day, another few pet birds dead from toxic oven fumes. Who knows how many undiagnosed, unreported bird deaths occur from this source daily? According to Avian Medicine Principles and Application, the foremost avian medical text, PTFE gas is a "common respiratory toxin in birds." How many deaths will it take for the oven and cookware manufacturers to be required to warn the public of the instant mortality sometimes caused bny their product? DuPont says that they sell only the (poisonous) component, polytetraflouroethelyene...(Teflon), and that they are not responsible for warning consumers about the products which are subsequently manufactured by other companies. The product manufacturers say they are not required to add warning labels because their products "don't kill humans". So where do we find this killer? Well these days there it would be easier to tell you were you wouldn't find it. It's used in Ovens, Cookware(pots,pans,utensils), dryers, washers, to name a few, and get this... How many people after giving their pet bird a bath, offer him/her a shot of warm air from the hair dryer to get them warm and dry? Well, you could have ended up with one less friend in the world....yep..teflon.
---
ADDITIONAL PTFE INFO:

http://www.keyinfo.com/bird/pages/articles/teflon.html

Dr. Dave's Comments on This Subject
---
PLEASE TAKE A MOMENT AND SIGN THIS PETITION TO MAKE ANIMAL CRUELTY A FEDERAL OFFENSE:
http://www.actioncat.com/sign.html
YOUR SUPPORT IS GREATLY APPRECIATED. THANK YOU.
Special Memorial to Winston: a victim to the horrors of animal cuelty.
---
TO RESPOND TO ANY OF THE ABOVE INFO, OR TO HAVE YOUR INFO ADDED, PLEASE E-MAIL US AT:


submissions@avianfriend.org
Or Phone us at: 1(360)835-2361 c/o Jason Caryl
Snail-mail us at: TAF, 1137 E. ST, Washougal, WA 98671
We appreciate any questions/comments, info you may be able to offer us.

Education is the key to happy, healthy, avian friends!




This page has been visited

times.